Join CMC's David Collins for a FREE webinar on statistical process control. No mathematical formulas, no complicated concepts!
Our COO David Collins will explain, using his vast 3 decade experience in manufacturing, how statistical process control can help a manufacturer reach Six Sigma levels of quality.
99% Of Chinese Factories Suffer From The Same Problem...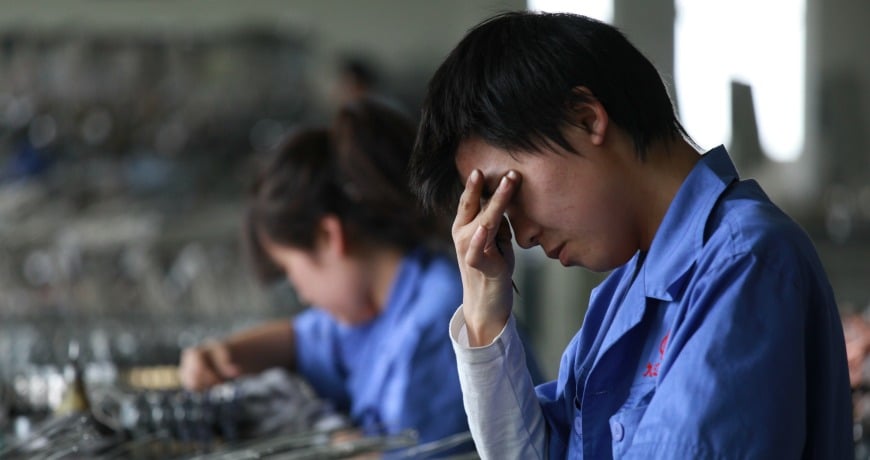 In 99% of Chinese factories, production and quality people don't understand the concept of "process control".
They tend to sort out and re-work bad products at the end of the lines. And sometimes they ship some of those bad products and hope nobody catches them. This is very costly for the manufacturer (inspection, re-processing, scrapped material...) and for customers (delays, inconsistent quality…).
Does it remind you of your, or your supplier's, Chinese factory?
If so, CMC's upcoming webinar will show you how defects can be avoided in the first place by putting statistical process control systems in place.
What we'll cover in the webinar
What statistical process control is


The difference between 'process thinking' and 'system thinking'

Process variation, and how to reduce it

Which variables must never be ignored

What six sigma is

How world class factories use APQP to manage product quality from cradle to grave

5 key best practices you can adopt to reach six sigma levels of quality
When Is The Webinar, And How Can I See It?
The webinar has 2 showings:
These times are default for your time zone, so you won't need to be watching at the crack of dawn like with some webinars!
Hit the button below to register to attend:


You'll also receive some bonus extras for attending!
PDF download of the webinar slideshow as a useful reminder.
Direct access to David Collins, our world-class manufacturing expert and the host of the webinar, so you can freely ask any questions and gain insight into improving your business.
The opportunity to request a free factory walkthrough where a CMC consultant will assess your factory and offer an action plan for solving key issues.
---
Let's explore SPC and six sigma in a little more detail before you watch the webinar.
What is process control?
The fundamental concept to grasp is, out of a good process will come good products.
The people in the production and quality departments need to start working together. They need to start practicing two new ways of thinking:
Process thinking (understanding what impacts a process)
System thinking (understanding the chain of events that happens along a production stream)
Once they see production as a series of cause-and-effect relationships, they can start to make changes and see if there is improvement.
Why do statistics come into play?
Well, in many cases there is no need for statistics. If a process is relatively simple and the most common defects are easy to analyze, the path to improvement is clear. Set up a go/no go jig, improve the fixture so the piece can't move when it's being processed, etc.
However, in more complex processes where cause-and-effect relationships are not obvious, statistics can be useful. For example, how to know what the right temperature and the right humidity are for a chemical process?
Understanding variation
Statistics are useful when there is a lot of variation in the output of a process and the causes of that variation is not very clear.
We'll show how some variables have a strong impact on the finished product, while many other variables can be left out. Not all variables need to be controlled! It only makes sense to control a variable that has a strong impact on a critical-to-quality feature of the product.
We'll introduce the process capability index (Cp, Cpk) and the way it can be used to indicate whether variation is up (not good) or down (good).


Six Sigma Best practices
You might wonder, what does a "Six Sigma level of quality" mean? And how to relate it to the process capability index?
This webinar will cover the measures a Chinese factory has to take in order to get closer to 'best in class' status. It includes the use of a few tools but also, most importantly, a deep change in mindset.
It will conclude by listing the 5 areas that impact a factory's performance: process control, supplier quality, equipment maintenance, staff training, and production planning. All have a strong impact on quality and cost!
Introducing your host, David Collins
David Collins is a former factory general manager who has been advising Chinese factories for the past 6 years.
30+ years of manufacturing experience in automotive, aerospace, computer, furniture, and chemical industries.
Helped set up 5 manufacturing facilities from scratch (in the US, Canada, Mexico), including a 450 million USD project.
Managed over 2,000 employees at the Chrysler Newark plant in the US.
Take action to get YOUR processes under control
David will go through these concepts in more detail in our webinar, with plenty of examples.
So if you are considering implementing some of these changes, a good first step is to register for the webinar! Just click the button below to get a no-strings-attached invitation to the webinar: