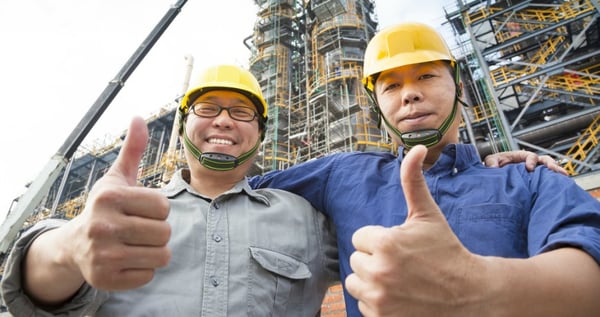 If you want to improve your manufacturing organization in a long-lasting way, it has to come from the 'top' AND the 'bottom'. If it only comes from the 'top', there is no buy-in throughout the company and people will not feel committed to keeping the new systems up.
So, how to get people engaged? This article lists 12 employee engagement ideas, sorted in 5 themes, to motivate production workers in Chinese factories.

Chinese Workers 'Don't Care.' True, or False?
One of the most frequent complaints we hear from factory managers is: 'The workers don't really care, they are not engaged in what they are doing'. As a consequence, they don't actively support the company's systems and policies, and they turn over very fast.
In fact, this doesn't need to be the case. There are proven employee engagement ideas which CMC has implemented or seen work in China many times. Let's explore them, and see if they could help improve your factory management:
1. A few measurable KPIs for everyone
Do you know the 1-4 most important things you want everyone to work on? If not, you need to cascade your factory's top-level goals & objectives all the way down to the operators.
Here are a few examples:
Production numbers (good pieces only)
Quality (first pass yield)
Support of an initiative of the quarter/year in the worker's area
As Mihaly Csikszentmihalyi's research suggests, people need regular feedback on how they are doing. And they also need very clear 'rules of the game'. Well-designed KPIs are 'SMART' (specific, measurable, actionable, realistic, and time-bound).
2. Monetary engagement tools
Everybody in China wants more money, or so they say, right? So a common practice is to tie the worker's bonus to their KPIs.
We usually suggest an easy-to-budget approach to our clients. For example, it might look like this:
Grade A (10% of workers) – 1500 rmb monthly bonus
Grade B (60% of workers) – 1000 rmb monthly bonus
Grade C (30% of workers) – 800 rmb monthly bonus
It could take many forms. You can also give the workshop supervisors the freedom to give 100 rmb to a few workers for their good attitude.
One important caveat: monetary rewards are a double-edge sword. Make sure people don't expect something they don't get in the end. Such a system can demotivate workers more than it motivates them! It can feed cynicism, a poor culture, and high turnover. This is explained very clearly in the book Drive by Dan pink.
3. Non-monetary awards
Yes, most Chinese workers say they want more money. But no, that's not their only source of motivation. Actually, the more you can find and use non-monetary rewards, the better for your bottom line and for your company culture.
Little things can go a long way. Here are a couple of examples:
A mention on the 'poster of the month' for well-done / over-the-top work accomplished.
An "outstanding employee of the month" reward. You can actually multiply these awards: one for quality, one for 5S, one for great workmanship on a complex task, etc.
4. Personal attentions
This is another non-monetary tool at your disposal. As people in China have a hard time feeling connected to their company, they need to feel connected to their manager/supervisor.
We listed a few ideas below:
A personal card for each birthday;
A party every month for those employees whose birthday is in that month;
A letter to the family, explaining how much of an asset the employee has been for the company (once a year);
Dinner with the supervisor (when a new worker is hired, or on a regular schedule).
5. High-performance teams
Several of the suggestions we listed above can be at the team level. It is usually better to count the team's KPIs – this way, a positive dynamic can appear and motivate all the team members. If one member slacks off, the others will 'police' him/her without the need for disciplinary action.
The best is to have teams complete projects and 'compete' in a healthy manner. This is how they get closer to the Toyota model of 'high-performance teams'. You probably can't get there in 6 months, but going in that direction will make a big difference in your organization.
Have you tried to implement some of these ideas? Have you noticed a marked improvement in worker retention and morale? If so, what was the main success factor? And if not, why did you conclude it didn't work? Please let us know by leaving a comment below.
---