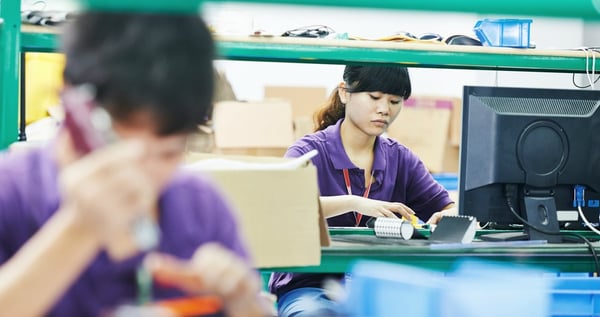 As wages keep rising in Chinese factories, more attention is given to labor productivity. In this article we explain what the problem often is, and then we suggest some improvements that have worked well for some of our clients.
1. Low Labour Productivity within the Injection Mold Shop
1.1 One-Person-One-Machine
Most injection mold factories would have a selection of different size machines from small micro machines with clamping force of just 10 metric tonnes right up to large 3500 metric tonnes clamping forces. There is also a plethora of manufactures and brands to choose from and each brand has its own different operating sequences and nuances.
If the factory had a one-person-one-machine policy in place, this would mean that a single operator would be responsible for just one machine. Their responsibilities would include operating the mold machine to the company procedures, and monitoring output of products to ensure machine is producing 'good parts' (the operator may or may not physically check the parts, depending upon company procedures and if they follow them or not). Other areas of responsibility would be to check the quantity of parts produced in a day and to report into line supervisors with any problems as and when they occur.
In nearly all Chinese factories, the machine operator would not be responsible for mold tool changeover or set-up that would be carried out by a dedicated team who would be responsible for all changeovers on all the injection mold machines.
1.2 So what is the Problem with this Policy?
In many mold factories in China, mold machines could be sitting idle either waiting for the next job to be loaded or because there is no staff to run them.
The actual manual labor involved with running a mold machine is minimal with the operator monitoring the machine to ensure everything is running smoothly. The operator could potentially be standing around doing nothing but watching the machine for as much as 60% of the time, which translates into 40% productivity. This is very un-productive from a labor output perspective and huge efficiency improvements could be made with some simple changes to way the factory operates and utilizes its workforce.
1.3 Small Improvements for Big Gains
Changing the way each machine is run from a labor point of view can increase productivity within the mold shop. With up to 60% of the operator's time un-utilized, this 'idle time' can be converted into productive time.
If one operator is busy looking after one machine for 40% of their time, they could physically look after a second machine, taking their productivity and efficiency up to 80%. This simple change now doubles the output of one person!
In order to achieve this change there may be the requirement to add some semi-automated functionality to the molding process, such as, molded part take away shoots, conveyors belts, and such like.
2 Best Practices to Improve Labor Productivity
2.1 Training
In order for an operator to perform at the right level of efficiency and proficiency, it is important that they are trained to carry out the job requirements. In one example, it could be time management -- how to manage and operate two machines at a time, and record keeping. The more an employee knows, the more productive they can be.
The first step in understand what the best training would be for employees is to evaluate the current skill sets and competencies of each of the factory's staff.
By analyzing the skill gap you should be able to optimize the training in order to get the maximum return on investment. Working out where the maximum increase in productivity after staff training and then implementing that training, the results should show an overall positive impact to the workforce as well as to individuals because they are able to see they are doing a better job, thus providing a win-win situation.
Giving the operator the right tools for the job, including knowledge, will allow them to perform tasks without hold ups or issues. Having staff that have self-confidence as well as new skills will work more effectively and efficiently thus improving labor productivity.
2.2 Planning
Smart planning can save a lot of wasted time which in-turn increases the overall efficiency of the factory. Making sure everything is available at the start of a shift or production run will allow the operator to focus on what they have been trained best to do: produce parts.
Planning aspects include material preparation (making sure there is enough material prepared and ready for when it is required). This includes drying raw polymer as well as getting the master batch coloring to specification.
Turning on the machine at the correct time before the shift starts will eliminate any wait period before production starts. This activity can be carried out by non-machine operators. This simple activity can save a lot of time as well as increasing output.
2.3 Controlling the Process
Allowing the operator to control the process with the aid of Statistical Process Control (SPC) provides a simple tool, through the use of charts, for the operator to monitor and see if any of the parameters are going out of control. This then allows them to make adjustments when required in order to keep the system optimized at all times, thus producing good acceptable quality parts.
The use of SPC is a good way of monitoring and understanding how the overall performance is likely to be within the manufacturing process. With the operator able to see variation in the data that they are plotting on the charts, they should next understand what is causing the variation and once the variation is understood, the action should be to implement changes to reduce the variation.
No need to start off with complex data analyses. Simple hand drawn charts are better than having no charts at all -- at least this way, the process is being monitored and issues identified as early on in the process as possible.
Progression onto dedicated statistical process control software should be considered at some point as this allows for more in-depth monitoring and provides engineers access to better data so they are able to better understand what the causes of any variation are and to put corrective action plans in place to fix any issues.
3 First-hand Experience
We have witnessed an increase in labor productivity in many factories where operators have gone through training programs that broaden their knowledge and are then able to take on a more cross functional role within the organization.
Making the small changes within Chinese factories can be a challenge if top management do not buy into the idea. But once they do, and once the changes are implemented, it is usually top management who then want to push forward with more improvements.
---