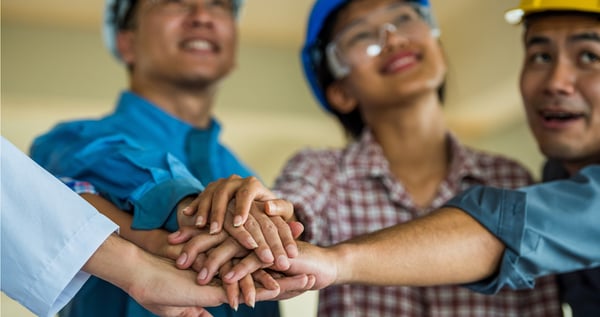 Regardless of the problem, virtually any manufacturing operation can be turned around using the right techniques and enough hard work. The key to doing so is correctly identifying and understanding the core complications that may be holding your process back. In doing so, we should be able to build a system to mitigate or eradicate the issues effectively.
To help you understand change management better, we've come up with 4 factors you should involve in your thinking. Let's go through them.
1. Understanding the problem and creating a desire to improve
Uncovering the main problem is excellent, but not enough. To foster change, you must be willing to adjust. Stating the cause of manufacturing shortcomings is useless without a drive to make the change. Sometimes, it comes naturally easy; other times, it occurs through persistence. A reason without a strong desire to eliminate the issue turns into a daily parade of excuses.
When you're told that something cannot be done, refuse to accept that position. Ask questions designed to get to the heart of the problem. Very few people are wired to look deeper into issues but are willing to accept that certain things are outside of their control. Conversely, when people are told that an answer is unacceptable, they have a fantastic capacity for creativity and will almost always come up with a workable solution.
2. Processes reduce chaos
Create processes and systems that make it easy to do work well and stop blaming your workforce. If you're not getting the results you want, it could be because your processes are not designed optimally to be operated efficiently. If you still believe that you have proper processes but are still receiving suboptimal results, consider questioning your point of view. Sometimes getting the input of the people around you helps you to step back and see the problem.
Most times, chaos can only be reduced by Standard Work. Standard Work helps to hold people accountable, by creating reasonable standards and then expecting those standards are met — with reasons for not meeting standards articulated clearly. Standard work must be used as a basis for process improvement.
Always question your processes and look for steps that may be unnecessary or exceedingly difficult for someone to do. Then change the procedures accordingly. If you're struggling, do some of the processes yourself. Putting yourself in a worker's shoes can help you to find the common pain points so that you can improve them.
3. Manager as teacher
Realize that your priority as a manager is to teach. A true leader guides and educates the people they have been entrusted with. People are wired with a desire to learn and do quality, meaningful work. The only reason why many employees don't appear that way could be because management has made an impossible atmosphere to do either.
As a manager, our job is to create an environment where people can grow and find joy in work. By developing the people around us, improvement then truly becomes everyone's job. Without this, workers will resort to management by platitude.
4. Reflect on learning and improving
Continually improve your knowledge and ability to manage is essential to morale. Understand every complaint from a customer or employee has a grain of truth and look for that truth so that you can continue to improve.
Hansei - translated roughly as 'reflect' in Japanese, means to reflect with the assumption that the problem is one owns fault. By taking that demeanor, you will open up a whole new world of possible solutions. Too many times we assume the issues are out of our control or are the fault of others, but rarely is this the case.
When combining the concept of Hansei with the question 'why', it will help you dig even further. Often, you should be asking 'why?' to find the deeper meaning behind the changes you need to make. When you learn to question everything, you start to understand the processes in place that make up particular work.
If your people are not performing up to standards, ask why.
If you are spending too much time doing rework or other non-value added work ask, why.

Looking for more advice and help?
By following these steps, you as a manager can begin the process of turning around your factory. It's not always easy, but it is possible with the right help and the right mindset. If you're seeking additional help in your factory, we're available to help you reach your goals and guide you through the process.