Factories in China are seldom perfect, having fairly common issues, for example, 'quality fade,' or a lack of a production planning system.
While working with consultants who can come in and help fix your factory on site is a great way to improve operations, what if you're just looking for factory improvement ideas in order to handle this in house right now?
Factory Improvement Ideas From Our Manufacturing Consultants
CMC's consultants have many decades of cumulative experience of managing and fixing factories. We don't only share this knowledge on the factory floor though.
For the past few years, we've been producing free China manufacturing improvement blog posts and webinars, presentations, and eBooks covering all kinds of factory improvement ideas.
Have you missed any?
In this blog post I'm going to share some of the most popular CMC resources that you may have missed, and explain their benefits.
Who can benefit from our consultants' factory improvement advice?
These resources are ideal for:
Large customers of a Chinese supplier who want their supplier to make positive, mutually beneficial changes to their factory
Companies who own Chinese manufacturing operations and are seeking to improve them
Companies who have a joint venture Chinese factory with a local partner and are also seeking to improve the factory there
Keep reading to see the resources. Please note that in order to download them we'll ask you for your email address and some fairly brief information about your situation, in order that we know where to email the content to.
Learn how our consultants tackle factory improvements and use these techniques (built into ready-made excel spreadsheets for you) to make improvements to your own factory.
These templates cover:
How to set up a management system that aligns everyone's goals and objectives for faster improvements and better results.
Setting up good process controls to ensure products are of high quality.
Creating a production planning system that is adapted to your unique manufacturing activity, in Excel and then in an ERP system.
A solid project management system for factories that make highly-engineered products (custom-built for each project).
If using these templates to implement your own improvements sounds like it's something you'll find useful, just hit the image above or the following link to request it:

>> Request download of 4 Templates for Planning Factory Management Improvements <<



We can all agree that reducing or eradicating any defective products

would be of great benefit, but which mistake-proofing techniques are recommended?
Our engineering specialists have put together this eBook which shares 14 mistake-proofing devices and systems which you can go ahead and implement in your factory at minimal cost, including:
Change in dies and fixtures
Vision systems that detects errors on a conveyor or at each step of a process
A visual color system that helps operators avoid making mistakes
...and many more.
If you're already using these, great!
However, if not, consider whether if by implementing them you would be able to eliminate some common quality issues. There's really nothing to lose, as we have purposefully selected low or no-cost options.
Get the eBook by hitting the image, or link below:
>> Request download of 14 mistake proofing examples <<


A lack of manufacturing management training can cause a number of fairly serious issues in Chinese factories.
This presentation outlines 22 signs that a factory is well-managed.
You can use it to assess whether your factory, or that of your Chinese suppliers, is failing to reach the necessary levels of:
Quality
Inventory
Delivery
Processes
...and more
If any of these 'signs' raise a red flag, then you can make targeting them a priority.
Ready to read the presentation? Hit the image, or link below:
>> Request download of 22 signs of good factory management in China <<


A Sustainable Process Improvement Framework For China Factories [Presentation: Video + PDF]
We created this resource to lift the lid on the 11 step process improvement framework that our manufacturing consultants use when working with a factory.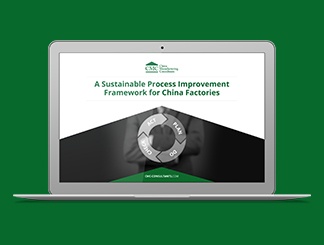 If your factory has issues with cost, quality, delivery, or any combination of the three, then you should use this framework as a starting point for your own improvement activities.
Our framework is an 11 phase process based on the Plan-Do-Check-Act cycle, to guarantee that these four risks don't become problems:
Failure to improve

Poor target-setting and management of expectations

Inability to sustain improvements

Assuring that manufacturing consultants, should you work with them, only target the most relevant issues
Not only does it include a PDF version of the framework, but you'll also see a video where I talk you through this tried-and-tested approach as soon as you complete the request form.
>> Request download of Sustainable Process Improvement Framework <<


7 Common Myths About Manufacturing Management
In this eBook we dispel some common manufacturing management myths, with a special focus on China.
Our experienced consultants have pooled their experience in order to help you improve your factory management style in 2018 and beyond.
We aim to dispel the following myths:
All Factories Should Try to Automate their Processes
Training a Chinese Workforce is Useless
Large Batches are the Key to Lower Costs
Paying Production Operators by the Piece Improves Productivity
Clean and Safe Workshops are a Luxury
Higher Quality Means Higher Costs
Lean Manufacturing is not Applicable in China
If you've previously subscribed to any of these ideas, then hopefully this eBook will show you a different, better, option which can help improve your factory processes moving forward.
Hit the image, or the link below to get this eBook:
>> Request download of 7 Common Myths About Manufacturing Management <<


Case Study - Auto Parts Factory Turnaround In China
Seeing 'real-world' examples of how our manufacturing consultants have helped factories in China to make positive, lasting changes can also serve as inspiration and guidance to you.
This case study focuses on an Automotive parts factory (don't worry, the material can help any manufacturers of other goods gain insight into how to improve their factory too), demonstrating how how CMC's lean management consulting created the following results:
Saved 850,000rmb per month (around US$134,000)

Improved the on time shipment rate from 39% to 69%

Increased factory capacity by 4x

Decreased bloated inventory saving almost 5 million RMB! (around US$788,000)
We did it by eliminating bottlenecks, and implementing production planning and preventive maintenance plans.
So take a look at how we created these great results in more detail and use the experience to map out your own factory turnaround, just hit the image or the link below:
>> Request download of Auto Parts Factory Turnaround Case Study <<


Your turn...
Which of these topics did you find most useful for your business? Don't forget that there are more factory improvement ideas like these to be found in our resources library.
If you have any questions, or requests for blog posts or eBooks on a topic that we haven't covered, please ask me by leaving a comment below!
---
Need help to fix your factory in China right now?
No problem, our China manufacturing consultants are here to assist you to make positive and long-lasting changes.
Get started by having a no-strings discussion with us about your current situation and goals. We'd love to find out more, so just hit the orange button below to schedule a call when convenient for you!