Many people have heard of Ikea's 'flat packing' and 'self-serve'. It's true that virtually all their products are designed in a way that minimizes their volume during transportation, and that customers generally buy products, pick them up, and do the assembly themselves.
But these are only two elements of a very well-oiled distribution, procurement, and production model. Let's go through the much vaunted 'Ikea procurement policy' and 'Ikea production model,' starting at the top....

Let's Take A Closer Look At The Ikea Procurement Policy & Production Model
Ikea is a fascinating brand to study for manufacturers who are interested in improving the way that their procurement department interacts with suppliers, as they have already made a fine art of supplier cooperation in many key ways.
1. Ikea's Overall Business Strategy
First, Ikea is a discount retailer. As such, the famous 'flywheel effect' that is at work at Amazon or Lidl applies to Ikea too: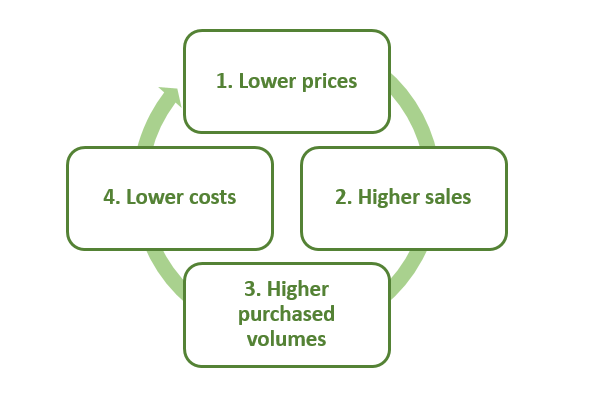 Ikea is one of the only retailers that are driven at least as much by production as it is by sales. It is part of their overall business strategy!
This becomes obvious when one looks at this illustration of their overall strategy:
(Source: What Is Strategy, Michael Porter, Harvard Business Review, November- December 1996)
The 3 elements I pointed to with the red arrows are directly linked to production:
Design focused on cost of manufacturing: the whole company (design, engineering, purchasing…) take the realities of production into account.
Long-term suppliers only: partnerships with key suppliers justifies supplier development efforts and joint investments in new products.


2. The Ikea procurement policy
As we wrote in

5 Levels of Best Practices in Procurement from China Suppliers
, Ikea's purchasing prices have dropped by 35% From 1995 to 2004. That's an amazing accomplishment. How did they do it?
In part by adopting the following strategy:
Concentrate all the buying power for a category, with the objective of reducing the purchasing price;
Work with a few key, high-volume suppliers, rather than many small suppliers;
Process-oriented organization (supply chain, including planning, purchasing, warehousing, and transport).
There are actually not one, but several policies.


3. Different approaches for different product categories
As we wrote in 5 Levels of Best Practices in Procurement from China Suppliers, there are basically 5 levels of maturity in the way a purchasing department interacts with suppliers.
Even Ikea, one of the retailers that took this model to heart, has only reached level 5 in a few of the most industrialized and high-tech categories (often close to the market rather than in low-cost countries).
How does Ikea decide what level to pursue, for each product category?
The higher levels (4 and 5) are well suited to core products with high volume,
All products with lower volumes and subject to market fluctuations are dealt with at levels 2 and 3. This way, less planning and coordination work is required and purchasers have more flexibility.
So, can the Ikea procurement policy be adapted to your company? Obviously it depends on top management's strategy. Can it produce the same effects? I would say probably yes, provided you weave together an entire business model in a coherent and self-reinforcing way (as shown in section 1).
Remember, Ikea has taken decades to develop their 'model', which is tailored to their unique situation. Try to understand it fully, but don't copy it blindly. The hard work is to adapt it, to the extent that it makes sense, and to fully implement your vision – as always that's the hardest part.


Have Your Say...
Have you seen companies that adopted successfully some elements of the Ikea purchasing policy? How did it work out? Share your experience in the comments below and we'll be glad to respond.
---