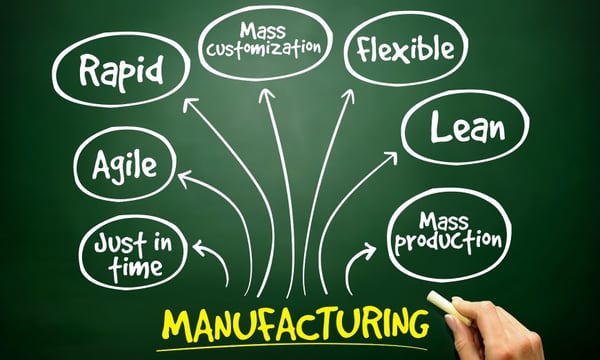 In your factory, or your supplier's factory, does the production manager love to process large batches? That's not surprising, and quite common. Unfortunately, it comes with many hidden costs.
"How can flexible manufacturing cut lead times in half?" CMC has created a webinar on this topic. Discover how you can see it here...
Join CMC's COO David Collins for a FREE webinar on flexible manufacturing!
Our COO David Collins, will pass on some of his vast experience and describe flexible manufacturing and how it can help improve your manufacturing operations, and cut your lead time by up to half!
Who is your host?
David is a world-class proven expert in leadership, lean manufacturing and employee engagement.
30+ years of manufacturing experience in automotive, aerospace, computer, furniture, and chemical industries.
Helped set up 5 manufacturing facilities from scratch (in the US, Canada, Mexico), including a 450 million USD project.

Managed over 2,000 employees at the Chrysler Newark plant in the US.
What we'll cover
We will describe the issues that come with the traditional 'batch & queue' approach:
Large batches take a long time to process, and work-in-process takes up a lot of factory space;
The emphasis is not on reducing changeover times, but on over-producing (which leads to much waste);
Purchasing and processing large batches makes it harder to find and fix quality issues;
The planning system is usually immature, which means workers and machines are not fully utilized;
Customers need to wait for longer, and need to carry more inventory themselves (higher costs).
It will also be followed by Q&A with David where you can ask him your own questions and get involved!
When Is The Webinar, And How Can I See It?
The webinar will be available for playback at your convenience if you register to attend, and you can watch it instantly, or choose to watch it later.
Click the button below to register to join the webinar:
As a taster of what is to come in the webinar itself, your host David explains a key benefit of more flexible manufacture in this 1 min video (on YouTube):
'All right', you are thinking, 'but how can this kind of manufacturing cut lead times?'
Let's represent it graphically, and keep things simple.
Here is a "batch and queue" setup. One batch has to go through 3 process steps:
It takes more than 6 weeks to get the whole order ready. In the meantime, the market might change and customers might no longer need that exact mix of SKUs, total quantity, etc. (And I didn't include Chinese New Year in the plan, or it would be even longer.)
Now let's look at the same processes, but with smaller batches:
The order can be shipped much earlier. The customers can order lower quantities and enjoy shorter lead times. Wouldn't you get more business if this were the case in your factory?
The idea is that a higher mix of products can be made with shorter notice. In practice is looks more like this:
How to set up flexible manufacturing?
Depending on your processes and your organization, you will need to take some of the following measures:
Change the process flow to make it more product-oriented;
Change the layout of processes to make it possible to switch easily from one type of product to another;
Improve the tooling, and the way it is changed, to make it more flexible;
Set up a strong planning system to ensure the people, machines, materials, and tools are ready when they need;
Change the habits of your purchasing staff (reducing order size).
The good news is, becoming more flexible not only cuts lead times, it also cuts costs! Less inventory, fewer idle people and machines, and less widespread quality issues.
Take action to become more agile
David will go through these measures in more detail in our webinar, so if you are considering implementing some of these changes, a good first step is to watch, or replay the webinar later! Just click the button below to get a no-strings-attached invitation to the webinar: