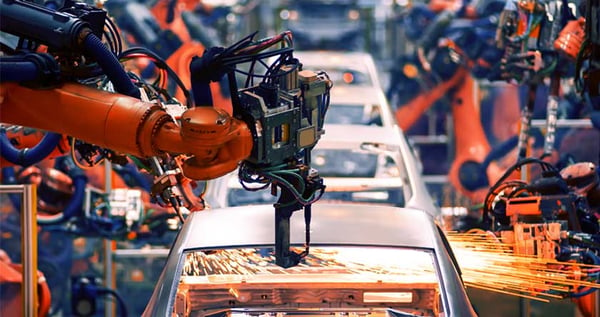 The ongoing outbreak of COVID-19 has become a threat to the global economy and it's most notably hit the automotive industry hard. Ever since the Lunar New Year, Chinese automotive production has slowed—disrupting supply chains, postponing the production of new vehicles and forcing even Tesla to downgrade the chips in some of their Model 3 vehicles.
But just how bad is the situation for auto manufacturers? And why are they being hit so hard by the COVID-19 outbreak? To understand this, we must look at Wuhan's role in the global automotive supply chain as well as how automotive factory processes are built.
Wuhan's Role in the Global Automotive Industry
Wuhan is known as the 'thoroughfare of China' and acts an important industrial hub for the country. In 2019, the city's GDP grew by 7.8 per cent, 1.7 per cent higher than the national average)—with the total value of its imports and exports reaching over 244 billion yuan (US$25.3 billion), 13.7% higher than 2018.
Recently, Wuhan has become known as China's 'motor city' and is home to a large number of auto plants (including those of major brands like Honda, Nissan, General Motors, Renault and Peugeot), becoming a major producer of auto parts for the global supply chain.
With Wuhan continuing to stay under lockdown until early April, many of the country's automotive workers are still not back in the factories. The China Passenger Car Association estimates a 10% reduction in production for the first half of 2020 and a 5% for the full year. If factories remain closed until mid-March, experts predict a decrease of 1.7 million units in vehicle production in China.
2 Major Reasons Why Auto Plants Are Struggling
The automotive industry is normally a well-oiled machine—with many established practices for efficient factory management and mistake-proofing.
However, many of these efficiencies are built to work in specific conditions. When extraordinary events like the current outbreak occur, some of these systems start to show weaknesses. Here are two processes that can be affected by the supply chain disruption:
1. JIT Inventory Management
Recent news has claimed that on average, it requires 5,000 parts to generate a finished automobile. Because of the virus, production facilities have already specified that they will have lower volumes than average of necessary parts. This, in turn, has left many companies struggling to set contingency plans.
Inventories for the majority of these manufacturing parts are maintained on a lean, just-in-time basis. The Just-In-Time (JIT) model has been applied into practice since the 70s in many Japanese manufacturing organisations, especially in automotive industry. The JIT model carries massive benefits in normal circumstances, including low inventory holding costs, less dead-stock, and improved cash flow.
However, due to the virus, this global model has also negatively affected manufacturing. For instance, as many factories have come to a halt, you won't yet have the parts you need in stock, thereby increasing the risk of not being able to fulfil what the customers order promptly.
This is why companies will have to use their on-hand buffer inventory, which can be anywhere from two to twelve weeks' worth, for automotive parts. As production volumes shrink, this may cause a global scarcity of parts. Since we cannot guarantee how long the buffer inventory will last, the industry will face a severe problem if the pre-holiday supply runs dry.
2. Over-reliance on Specialised Parts

When a new model of car is developed, one supplier is chosen for every constituent and has to follow a thorough qualification process (the Production Part Approval Process). Once tooling has been made and confirmed, all the parts are assembled, and the entire vehicle is tested and certified for safety. The purpose is to reduce the risks of problems appearing once mass production has started.
However, this becomes a problem when there are production delays and the industry heavily relies on a single supplier for a specific part. If you need a component to create the model of your car and your supplier cannot deliver what you need on time, your industry will face a serious problem. As an example, Nissan recently shut down production in a factory in Japan as they are dealing with a massive shortage of Chinese parts.
This brings up another question: should you change to another supplier? Though this may seem like a good idea, if one part is then made in a different facility, with a separate process or in a different material, you may have to repeat the entire safety testing process from the beginning. What's worse is that you might be charged a different price for the same part.
How Can Chinese Auto Plants Recover?
Despite the challenges of COVID-19, many companies are still looking for solutions to recover from this slump.
As indicated above, many supply chains are having difficulties in meeting the demand of their customers and therefore, have less room for error. In that case, finding alternative routes of fulfilment while relocating your plant out of China may be a viable solution.
The only question now is: how long will it take to get back to normal? And how much will it cost to reduce reliance on China as a supply chain partner, while at the same time, covering the losses and forming similar partnerships elsewhere? That's why it's best to consider the pros and cons of this contingency plan before deciding whether or not to move your factory out of China.
---
Want to see an example of success using statistical process control in the automotive industry? Click below.