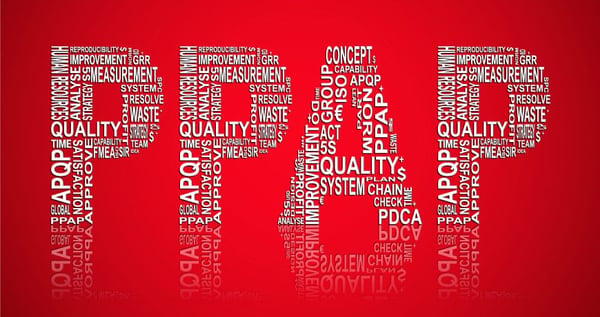 Do you purchase auto parts in China, and you are frustrated with the PPAP prepared by your manufacturer? Do they seem unwilling to go beyond "the basics to be in compliance"? As often, it is an education problem. Here are 4 tips to push the supplier in the right direction...

1. Explain why the PPAP process makes sense economically
As car makers outsourced the production of most components, they wanted their suppliers to follow the processes that had proven their value internally. The PPAP is basically a set of best practices that OEMs request their tier 1 suppliers to go through.
Chinese suppliers like to work with little structure. They tend to start a job and then work out the kinks over time. That's fine for small batches, especially when there is no repeat order in sight. However, this approach can kill them in a different context.
Car parts are often made in the millions, continuously over several years. Purchase contracts usually don't allow the supplier to fall behind in delivering acceptable parts. Qualifying a new supplier for 1 part of a vehicle requires many millions in new testing, so there is a LOT of pressure on those suppliers that got qualified in the first place.
Here are the main risks for a supplier:
Low output: they might fall behind schedule due to issues they haven't caught in the pilot run, which might not have been set up properly. They might have to send the parts by plane. If they are so late that the car plant's production schedule is affected, the penalties might drive them out of business... Stoppages can cost 40,000 USD a minute!
High proportion of defects: if quality issues are stopped in the factory, it might create delays. If they are noticed by the customer, a 100% inspection job (paid by the supplier to a directed third party) might be imposed and typically ends up being quite expensive.
How to avoid these issues and do away with the "we do it because it is required" mindset? The best approach is to convince your suppliers to follow the APQP approach -- it will give structure to their new product introduction process, and at the same time it will ensure they prepare all the PPAP requirements.
2. Explain that the PPAP is not just a set of documents
To get paid, Chinese exporters need to provide their customers with a set of documents: commercial invoice, packing list, bill of lading, certificate of origin... So they get organized to prepare these documents on time and in full.
When a customer asks them for a PPAP before mass production can start, most Chinese manufacturers think, "oh, another set of documents to prepare".
Again, they see it as a compliance thing. A cost of doing business. What it is, actually, is an investment to get mass production to run with minimal issues and to keep their costs down for the whole length of the project.
3. Help them do some of the engineering right
They might have been forging, casting, machining, or injecting auto parts for 20 years, but they have probably never done an FMEA right (for example). Since a set of documents needs to be prepared, one person fills out templates in his office. He is not engaging representatives of several other departments, he is not doing a lot of the work he is supposed to, and he writes fake data.
These are just a few of the issues we detect frequently when we conduct a PPAP review. Very often they haven't paid much attention to a document as vital as the control plan!
4. Be transparent about the likelihood to get the business
Many importers "sell" their project to Chinese manufacturers. They give volume and timing projections that are overly optimistic. The manufacturer, on his side, notes that promised volumes are always lower than promised. They note that some "really hot business opportunities" never materialize.
After a few years, they are quite cynical and want to see orders before they invest anything in a new project. This is what you really want to avoid. Don't overplay your cards. Be straightforward and they will learn over time that a "serious project" is indeed serious. Then, hopefully, they will take the time and affect the resources to follow a good PPAP process.
At the end of the day, as the buyer you also need to work with manufacturers that care about doing a good job. French people say "one can't get a donkey that is not thirsty to drink" and the same is true here.
What have you done to get better PPAP preparation? Please leave a comment below and we'll respond.
---