So management is committed to improving your factory's operations, but they are not sure what to focus on? Are they focused on the right process improvement goals?
Based on our past experience, there are 5 key success factors in any factory. We cover them in this article.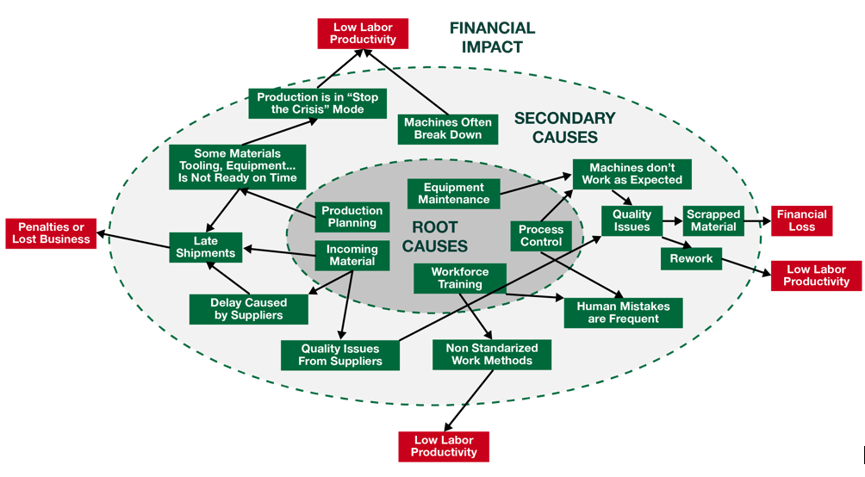 1. Staff training
Obviously you can't expect good quality and on-time products if people don't know what to do, what is expected, and so on. Sometimes we go into a factory and we are appalled by the lack of qualification of the staff – the quality manager has never done a root cause analysis, the accountants are actually cashiers, and the "general manager" knows nothing about his production processes.
Training needs to be given at each level. Here are a couple of examples:
Production operators need work instructions for routine work, an understanding of what quality and safety mean in their work, and a process for escalating issues.
Front-line leaders in production need to be able to run effective meetings, to drive improvements, and to constantly maintain discipline (i.e. ensuring standards are met) in their teams.
2. Process control
Ensuring processes deliver expected results is something all world-class performers do, but we see very few Chinese companies that try to do it. Let's look at a few different situations.
Are your operations mostly manual? Mistake-proof your processes, get the operators involved in writing (and then following) their work instructions, give feedback quickly as issues are found.
Do you have a lot of automated equipment? Make sure you use the equipment's internal data collection & analysis modules and ensure that they tell you the truth by double-checking them regularly. Gage repeatability & reproducibility, as well as calibration, are critical too.
What about chemical process-based operations? Statistical process control is the only way to know if your processes are running as expected in real time. If you wait for the end products, check them, and adjust your processes as you go, you are flying blind and you are probably spending a lot of money in rework.
3. Production planning
The more complex your operations and your supply chain are, the more you need a good planning system.
We see very few Chinese manufacturers using a proper planning system. It doesn't have to be in an MRP/ERP software. Microsoft Excel can already help a lot. But not having a good planning system causes many issues:
Purchasers tend to buy in quantities that are too large, and way too much inventory is kept in-house. It is expensive!
The production department also tends to process large batches at a time. The amount of work on each piece of equipment or in each assembly line is up and down. In particular, upstream operations are on a roller coaster: very busy one week, idle the next.
Many people in the office "expedite" their customers' orders and push production, when only 1 good planner would do a much better job.
Poor planning feeds delays and last minute urgencies ("it has to ship tomorrow night or the customer cancels the order") which therefore disrupt production and reduce efficiencies.



4. Equipment maintenance
The more dependent you are on your production equipment, the more critical this element is.
Do you wait until machines are down or a piece of tooling broke? Most Chinese factories take this purely reactive approach too, and yet it costs them millions:
Machines break down when they are needed, the production plan becomes a mess, workers are idle, and shipments are delayed.
It pushes every production supervisor to build in more stock as safety, to have time to fix issues. But it causes serious cost over-runs (again, holding inventory is quite expensive).
Quality issues appear as a tool gets worn or partially breaks.
The equipment's lifetime is severely reduced.
Instead, what can you do?
Preventive maintenance – schedule down time to clean, fix, and study the equipment.
Predictive maintenance – estimate the mean time to failure and/or between failure, increase equipment inspection after a certain period, and have replacement parts ready at the right time.
Total productive maintenance – in addition to the above, have production operators "own" and take care of "their" equipment.
5. Incoming material
If your suppliers deliver substandard quality products and are behind schedule, your quality & timing performance will necessarily suffer. It will probably translate into extra costs too – for example, you might have to sort out bad products yourself, you might have to expedite urgent orders, and your customers might charge you penalties for late delivery or poor quality.
You need to rely on good suppliers. If their performance is poor, your performance cannot be very good either. In China, this might be difficult if your order quantities are low. One thing we noticed very often is that purchasers tend to push the price too low which causes issues that end up costing much more than their "deal" saved the company. Watch out for that!
Is your factory pursuing some of these process improvement goals? Which ones are seen as a priority, and which ones are not but should be? What obstacles have you seen along the way? Leave a comment below, we'd love to hear from you!

---