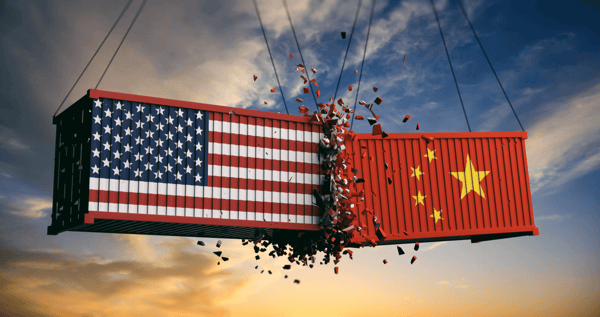 Trade ceasefire written about a few months ago has ended. Talks between US and Chinese officials broke down and President Trump boosted tariffs on over 6,000 goods (valued at $200B) from 10% to 25% and has threatened to increase tariffs on a further $325B of Chinese exports soon.
China has promised retaliation by increasing non-trade barriers to US goods and ending purchases of already hard-hit American farm products.
The graphic below shows the 10 most affected industries by this increase. The full exhaustive list can be found on the United States International Trade Commission here.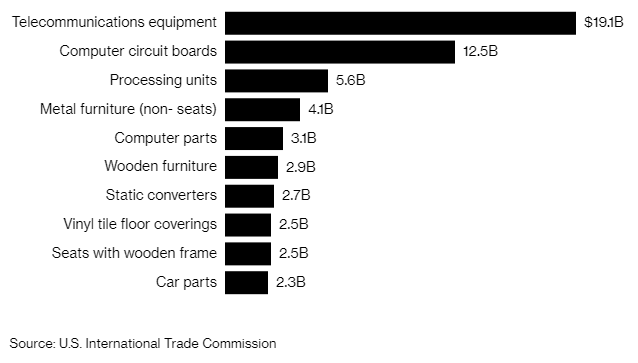 The US stock market has had the worst week of the year and investors have seen more than $625B in market equity.
How Did We Get Here?


Both countries have strong reasons for wanting to conclude a deal quickly and strong reasons to not give much ground to the other, so it is very difficult to predict an outcome.
The primary reason for wanting a quick end is that trade wars are damaging to national economies and individual consumers. Global supply chains are complex and tightly interwoven so anytime tariff prices rise there are multiple downstream affects especially when the two countries involved are the largest economies in the world.
A client of CMC from the UK (a country not part of this trade scuffle) decided not to continue with a project because rising tariffs between the US and China were cutting into its profits. Despite what President Trump asserts, it is the consumers, not the producers, that bare the burden of the tariff. American manufacturing companies that receive significant parts of its parts from China must raise their prices or suffer reduced profits. The Association of Equipment Manufacturers estimates that the tariffs could lead to the loss of 400,000 jobs in equipment manufacturing.
Chinese producers suffer as well. Tariffs reduce volume export and for many Chinese companies that rely on volume, rather than quality, to remain competitive, this is a major hit. China depends on manufacturing exports and forced technology transfers to maintain its high rate of growth.
The Chinese government believes, correctly, that if growth falters the country may face political turmoil if economic advances do not continue. Just as there are good reasons to come to a quick agreement both countries face domestic political and economic consideration to fight hard against the demands from either side.
China engages in numerous economic policies that are damaging to American companies: joint ventures and licensing to force technology transfers or that it heavily subsidizes industries throughout its economy using lax environmental regulation (although this is rapidly changing), generous government subsidies and state-owned enterprises, and forced joint ventures.
Additionally, Chinese companies famously outright steal American intellectual property and produce knock-off goods. These factors limit the ability of American companies to compete in China and on the global stage and sacrifice a primary US advantage: technology and intellectual property.
The US government is demanding that China make structural changes to end subsidies, allow for foreign investment, and protect foreign intellectual property. China is resistant to making these structural changes for fear that it would destroy the country's growth model and infringe on the country's sovereignty.
Chinese leaders are especially defensive on any measure that would impose changes to Chinese law. Hardliners are pushing against US attempt to, in their opinion, strong arm China into making any fundamental changes.

What's Next?


The failure of this round of trade talks makes one thing certain: every business should be prepared for volatility and for tariffs on these products to continue into the foreseeable future. The situation is just as likely to worsen as it is likely to improve. Volatility is the only certainty at this point.
"The negotiations, no matter what anybody says, will not end at the end of this phase," said David Lampton, Hyman Professor of China Studies and Director of the China Studies Program at the Johns Hopkins School of Advanced International Studies and a fellow at Stanford University's Freeman Spogli Institute for International Studies. "We've got decades of painful negotiating with China ahead."
Dr. Lampton is right. Even if this trade deal is resolved next week, there will almost certainly be continued trade tensions between the US and China. Only by acting now can companies get ahead of these trends and remain competitive.
What Should My Company And I Do?
Act now to lower costs to counter tariff effects.
There has never been a better time to focus on cutting costs, improving quality, and raising efficiency. The companies that do this will come out stronger, more profitable, and likely with fewer competitors than those that failed to rise to the challenge.


How you do this strongly depends on your situation. If you are primarily producing in China and exporting to the United States, it is possible not only to stay in China but to become more profitable.
That is possible because, despite recent progress, most Chinese factories are woefully inefficient and follow production practices that are no longer viable in China.
CMC has assisted companies in cutting costs by 35% through process improvement, inventory reduction, and lean manufacturing guidance. The tariffs may be an effective means to push your suppliers into making long desired changes.
Now is the time to push for those improvements.
In other cases, relocation or building in North America is a great option for processes that manufacture precision equipment or can be extensively automated. American manufacturing is expanding rapidly and is significantly more efficient than Chinese factories. Mexico is an excellent choice specially for products like auto parts that require precision and high quality. Mexican factories are more efficient than Chinese factories and Mexican labor is now cheaper than Chinese labor.
Both the US and Mexico have the added advantage of significantly closer supply chain and location to customers allowing businesses to be more agile and flexible to changing customer tastes.
CMC has opened a US-base branch, Manufacturing Transformation Group, that specializes in factory set up and process and help your company have a stronger start than those that do not take these factors into account.
The advantage to either approach is that they are win-win. In the highly unlikely event that the US and China reach a settlement that eliminates all tariffs and other trade barriers, the companies that make these improvements now will still be more efficient and more profitable than those that did not make the same changes. If tariffs become even higher, the company that improves now will weather the storm and the companies that do not will fail.
The key is that any business engaged in manufacturing and trade (basically any company that produces a physical product) needs to act now and get ahead of these tariffs and the unpredictable global.