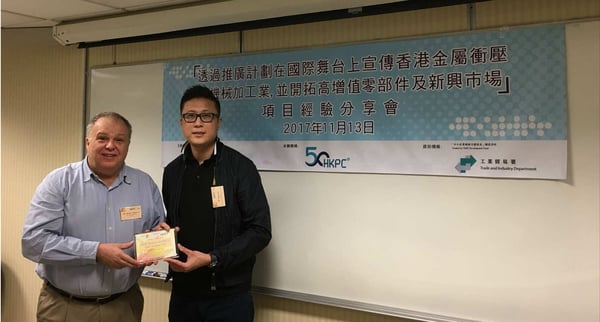 David Collins spoke on the topic of "Supplier & Procurement Requirement Trend Of Automobile Industries For Metal Components" in Hong Kong this week!
The Hong Kong Productivity Council kindly invited him to be a guest speaker at their symposium this Monday 13th November 2017 in Hong Kong.
Here is David in action at the event:
David touched on the following topics:
What automotive buyers want (less weight, stronger and rust proof metals, better ability to paint without defects, etc.)
Car makers' CO2 emissions (the EU leading with a high standard, the US following closely, and China tightening their standards quickly)
Strength is also a must because of more stringent safety standards
The opportunity of solving the oxidation issue
New materials would need to be able to be used in current car plants, which have a long life
The idea of close partnership with suppliers
Suppliers as a source of new ideas and significant savings
New materials that will compete more and more with steel
Comparison with aerospace
Close-loop recycling and its huge impact on total cost of ownership
Common manufacturing issues in China (process controls, tooling quality, etc.)
If you have any questions about this topic, or manufacturing improvements in general, why not leave us a message in the comments? You can reach out to David Personally there, or by contacting us too if you'd like to speak with him.