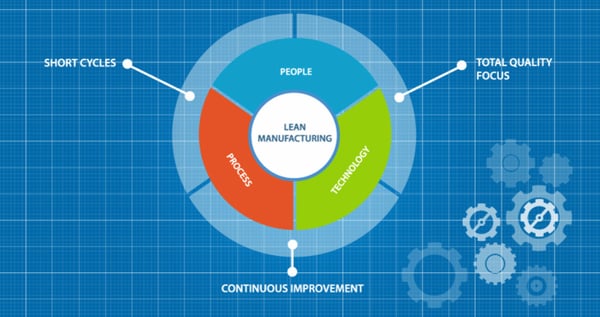 In this blog post I will count down 5 great lean blogs & 2 lean podcasts that we follow with interest and highly recommend...
What is Lean? A set of best-in-class manufacturing practices that have appeared and shown their value over time. They include many steps such as the standardization of parts or the 'flow' of semi-assemblies in Ford's Highland Park plant. These days, their most well-known form is what Toyota and Honda have perfected since the 1950s.
Many authors have covered how those corresponding principles (branded as "Lean") allowed leaps in performance in all manufacturing verticals, but also in office processes, health care, and other industries.
It can look like a religion sometimes, with debates about what is or is not truly Lean. Different authors have different perspectives, and that's why it is good to read from various sources.
Keep reading to discover the lean blogs and lean podcasts which we enjoy here at CMC; hopefully you'll find them useful too!
Michel Baudin's blog
Over the years this consultant has shared pretty deep thinking about Lean and related topics. He is not afraid of being controversial, but always backs it up.
This is the only blog on the list that focuses mainly on the "hard stuff", not on "soft" issues such as organization, respect, change management, etc. He is also the only one who reads widely beyond the Lean literature in English – he often quotes from Japanese, French, or German sources.
Two examples of good articles:
By the way, he is the author of three very useful books about the nuts & bolts of assembly, logistics, and machines.
Take a look at Michel Baudin's website to learn more.
Paul Akers' blog
Paul is one of those company owners with a ton of energy and enthusiasm. He posts mostly short videos on his blog, as well as interesting videos posted by other people. His examples and his approach in general are very refreshing.
Example of a useful video:
When he talks about 'lean health' it's not about the healthcare industry… but how he got rid of waste (fat) and built his capabilities (muscle) in his body! One can't get more hardcore than that. He is a self-proclaimed lean maniac.
Visit Paul Akers' blog here.
Gemba Academy's podcast and blog
The always very engaging Ron Pereira publishes regular podcasts and occasional articles. Many of the podcasts are quite interesting and/or useful.
Three examples of good podcasts:
Read the Gemba academy blog here.
The Lean Blog
Mark Graban has been writing on this blog for many years. He has also been publishing a podcast for a long time.
The author worked in the auto industry and is now focused on health care. Some of his blog posts and podcasts are pretty good and relevant for factories.
Example of a useful article:
Read the Lean Blog here.
Jamie Flinchbaugh's blog
Jamie Flinchbaugh shares his views on the human element of Lean in short videos and articles. It's not about the engineering, but about the change process.
Example of an interesting article:
Take a look at more from Jamie Flinchbaugh's blog here.
P.S. Remember that CMC also publish blog posts on lean manufacturing too!
What other Lean blogs and lean podcasts do you follow?
There are certainly good ones out there that we are not following yet, and I'd love to hear your recommendations, and why you feel they're useful. Please share links to them and comments below!
Here in CMC's manufacturing improvement blog, should we talk more about lean principles and tools, or should keep focusing mostly on actionable advice in the context of China's industry? Please use let me know your feedback, as we're committed to offering information to help you improve your business and skills.
---