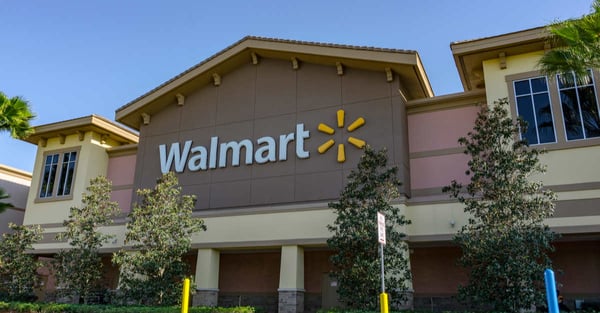 Walmart recently set a goal to reduce emissions and electrical consumption by over 50 million metric tons in its China supply chain and operations.
It is not only large buyers like Walmart who can either action or benefit from environmental initiatives like this. See how your business can benefit from what they're doing here too...
Walmart In The Vanguard Of Large Buyers Seeking To Reduce China Pollution
This is a great and ambitious goal. It is time large buyers start to work on reducing the China pollution issue because the country is now starting to take tackling pollution from manufacturing very seriously indeed.
Much of it can be done with very little investment. So, reaching this goal does not have to cost much money and therefore is not the sole preserve of giants like Walmart.
Let's take the example of lights
Some cost is involved but purchasing new lights for your factory can help greatly in reducing energy usage.
Adding translucent panels to the roof of your building allows you to light much of the factory during the day shift without turning on many lights.
You can bring the lights down from the ceiling of the factory and only have job station lighting. This action reduces the need to light the entire factory.
Motion sensors for your warehouse and other parts of the factory that are not used very often will reduce energy usage. Lights will only turn on when there is activity in the area.
Cost-Effective Ways To Reduce Energy & Waste
The most cost-effective way to reduce energy and waste is to use lean manufacturing techniques to reduce cost and improve quality.
Here are some tips:
1. Avoid Repairing Products
Repairing products because they are not good enough the first time wastes energy and materials. Double processing costs the factory money and uses up energy resources. Putting in place good process control and good job station setup will improve quality and reduce cost. It will allow you to also reduce your carbon footprint.
2. Eliminate Waste
Eliminating waste on the line and improving efficiency can reduce manpower and much cost. Energy and waste are saved as each person uses both to make the product. Fewer people equal less of everything needed. From water, to food resources, and other things needed to put each person to work.
In CMC's consulting projects, we often see manpower reductions of 20-50% for factories, together with much higher quality and of course lower cost. Electricity is saved, as well as waste to landfill.
3. Rearrange Production Lines
Rearranging lines and processing them better can reduce the amount of space needed to make products. CMC reduced the space needed by over 20% in several factories. This space can be used for making more products. The energy needed to make each part is reduced drastically.
4. Use Recyclable Containers
Using recyclable containers from your sub-suppliers saves in the use of cardboard and packaging material. Eliminating this waste alone usually pays for itself in less than a month and would meet all of Walmart's objectives.
Cardboard and packing materials take up much energy to make, and they have to be thrown away. As packaging materials have gone up in price, it makes sense to use reusable packing from sub-suppliers. This will eliminate much of the energy and pollution coming from these products. The cost will decrease, too.
5. Use Electrostatic Spray & Process Control In Paint Shops
If you have a paint workshop, you can reduce energy and pollution by changing the way you process your parts. Using electrostatic spray and process control can improve your paint usage by 15-60%, depending on what type of spray methods you are using. This allows the producer to save cost (less paint consumption) and cut air pollution.
Using good process control for your plating and anodizing reduces needed electricity and keep costs down. And, naturally, it also improves quality greatly.
Conclusion
Here is what is very important to understand: reducing energy consumption and pollution actually saves money. Luckily, as illustrated in this post, much of this can come from very inexpensive modern manufacturing techniques that do not cost much money to implement.
Is China's war on pollution affecting your business yet?
Are you implementing any of these pollution reduction initiatives in your factory? How have you got on so far? Are there any tips you can add to my list?
Please leave your thoughts, tips, and questions below as a comment for us to answer.
---