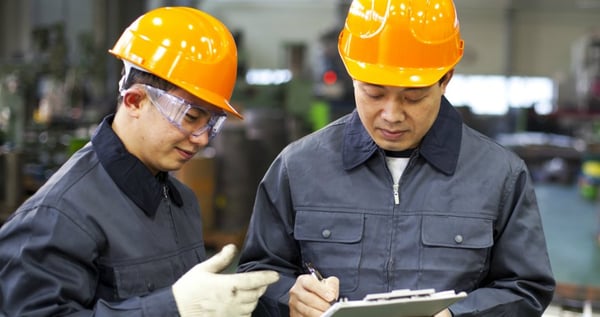 Most Chinese manufacturers believe they are above average in terms of reliability and cost control systems. Obviously this is not true – most companies cannot be 'above average'.
The sad reality is, more than 90% of Chinese factories are poorly structured, poorly managed, and have poor performance.
How to know if that's the case of your factory, or your supplier's factory?
Keep reading to use CMC's FREE self assessment tool to find out where you stand and which improvements could be made to both cost control and quality systems in your factory...
Where Does Your China Factory's Performance Stand?
CMC have developed a free online tool to get a clearer idea about this:
Through this self-assessment, in just 15 simple questions, you will gauge the factory's performance in three key areas:
Productivity (to control labor costs through time-tested good practices in the field of industrial engineering)
Quality (to ship acceptable products, avoid costly rework & scrap, and ultimately keep their processes stable)
Timing (to avoid bad practices that increase lead times, as well as last-minutes surprises regarding shipment dates)
Benefits for you as a manufacturer:
Pinpoint what areas you need to improve on, based on an objective and simple assessment tool. Don't rely on opinions and hunches from your executive team!
Hire technical assistance (either employees or consultants) to review the weak areas and draw an action plan to improve on them.
Congratulate your team on your strong points.
Run the assessment every year and see if you are improving your score.
Benefits for you as a buyer:
We are not asking questions that require inside knowledge about the factory. If you have visited the factory a few times and dealt with them for a few years, you will be able to make educated guesses and answer all questions.
Alternatively, you can ask them to fill out the self-assessment and forward the results to you!
Understand the drivers of the factory's performance. For example, they regularly ship late because they have no robust planning system. Well this is something they can work on, starting with a simple Excel file at a high level – that will already yield measurable benefits.
The scores from our tool can be one more data point in your supplier management system, alongside metrics such as: cost level, % accepted batches, % on-time shipments, service attitude, etc. It will help you make better decisions and justify your decisions in your suppliers' eyes.
Run the assessment every year on each key supplier's factory and see if they are improving.
Take action today
Our FREE assessment tool takes about 3 minutes to complete, no more.
After you receive your results, you are welcome to contact us by email/phone and ask our opinion. We will tell you how your factory fares with respect to its industry and area. The average furniture factory gets a much lower score than an automotive factory, for instance. So maybe you are close to the best of your industry in your area with a score of 60%, while another company would only be below average!
Are you ready to complete the assessment? Just click on the button below to start: